1-2-1 Puppy Consultations
Providing a Peaceful Home for You and Your Puppy
Bringing a new puppy into your home can be exciting but also very overwhelming and frustrating.
It is exciting to watch them grow and learn and enjoy new experiences. But it can be overwhelming and frustrating if our expectations are too high or if we are having trouble understanding our puppy's language.
If puppies were to grow up surrounded by their own kind, they would learn self-control, respect and manners. When we choose to bring a puppy into our home, it becomes our responsibility to help them learn these things. That is why it is so important to learn all about our puppies, including their social nature and how they think, learn, interact, communicate and develop both mentally and physically so that we can assist them to grow into confident, healthy dogs living a peaceful and happy life.
If we are to live harmoniously together we need to bridge the gap of communication, understand the life stages of the dog and build a solid relationship based on mutual respect and trust.
Puppy classes can be overwhelming for some puppies. Bigger puppies can scare or unintentionally hurt smaller puppies, one puppy might be more confident than another and not every puppy is going to feel comfortable in a class environment.
So, rather than puppy classes, Jenny offers 1-2-1 consults. Each puppy is individual in how they grow, develop and learn, so a 1-2-1 consult is beneficial in that it allows Jenny to provide individualised support for you and your puppy.
A 1-2-1 consult allows your puppy to feel comfortable, exploring our nose zone at their own pace while you learn all things puppies.
Some of the areas Jenny will cover in your consult include:
o Preparing and planning for when puppy arrives
o The car ride home and how best to ensure it is a positive experience
o What to expect on your first night and how to make your puppy's first night as positive and comfortable as possible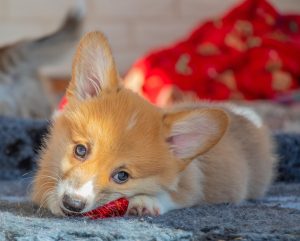 o Understanding calming signals and canine language
o Feeding requirements and water
o Bedding and sleeping arrangements
o Safety for your puppy & puppy proofing your home and garden
o Puppies and young children
o Puppies and other dogs and animals in the household
o The importance of a good fitting harness and long lead
o What are you going to do with your puppy while no one is home; When and how to prepare puppy to feel confident and happy to be home alone
o Socialisation and what this really means and how to best "socialise" your puppy with other dogs
o What does it mean when puppy is whining, crying or barking
o Recall
o Toileting
o Mouthing & biting
o Chewing & digging
o Toys, activities, enrichment and introducing different sights, sounds and smells
To ensure Jenny can assist you in the best way possible consultations are held at The Complete Pet Company, 148 South Pine Road, ENOGGERA QLD 4051.
Consultation Day is Tuesday with two time slots available:
10.00 am – 12.00 pm or
1.00 pm – 3.00 pm
Initial consultation: You will need to allow two (2) hours.
Follow-up consultation: You will need to allow two (2) hours.
Jenny will advise you at your initial consultation when your follow-up consultation should take place. The follow-up consultation is to check on your progress, answer any questions and help you move forward.
It is important to understand, we cannot expect puppies to change behaviours as fast as we would like.
We first need to understand why the behaviours occur and change what we are doing and lead by example – When we know better, we do better.
Fees and consultations:
Consultation fee: $485.00 payable on the date of your initial consultation.
This fee includes the initial 1-2-1 consultation of two (2) hours and the follow-up consultation of two (2) hours – four (4) hours in total.
Zoom consultations are available at the above fee.
Any additional hours or consultations: $95.00 per hour payable on the date of the consultation.
Travel fees and fuel charges may apply if visiting your home during a consultation if travel is required outside the Brisbane metro.
With over 20 years' experience working with dogs of all ages, breeds and backgrounds, Jenny takes a holistic approach, with each consult tailored to your puppy's individual needs. Jenny uses methods that are 100% force free, up to date and based on the latest research.
Puppies are only puppies for a short period of time, so it is important that we get it right during this crucial time in their life. And it is just as important to enjoy puppyhood and have fun with your puppy.
A Curious puppy, given Choices will grow into a Confident dog – and this is so important for a healthy, happy dog.
To book your consult today, please email [email protected] or phone 3855 3555.